There's been a lot of talk over the past few years about Dominican women and how ridiculously hot they are – at least for most guys. If you are into black and Latina girls with curves for days, the Dominican Republic is pure bliss.
I happen to fall into the category of guys who dig that demographic.
During my time in the Dominican Republic, I regularly woke up to empty bottles of baby oil after playing slip and slide with a girl the night before.
The washing machine at the apartment I rented probably never got that much work.
In this article, I'll explain how to safely meet Dominican women, share tips on how to pick them up, the pros and cons of dating them, and other assorted golden nuggets.
Best Places to Meet Hot Dominican Women
Let's start this post off with a bang.
There are two routes to take when traveling to the Dominican Republic: the safe route or the adventurous route.
The safe route equals going to a resort where you will not get a true taste of the Dominican dating culture.
You may run into some pros or a handful of girls who have become jaded by the sight of foreigners.
In my opinion, this is not the route to take.
The only men I've met who have given the Dominican a thumbs down are the ones who went to Punta Cana or took the resort route.
What is the adventurous route?
Men who want to meet real Dominican ladies need to venture off the beaten path.
Santo Domingo
Santo Domingo is where I go to meet Dominican women.
I prefer to stay in the neighborhoods where mostly Dominicans live instead of living where other foreigners congregate in the upscale areas.
Why?
Simple, I don't want the women to think I'm just another rich foreigner there who they can treat like an ATM.
The women are clever, and they know where to go to find men to prey on.
I'm not saying you should choose to stay in a rough neighborhood, but I did well in Gazcue.
It's central, and there aren't many foreigners around there.
In fact, when I stayed there, I didn't see one other foreigner.
Personally, I love that.
I don't travel to meet other foreigners.
I was in Santo Domingo to date Dominican women, and that's what I did at a ridiculous rate.
You can check out Airbnb to find a place.
You'll find that Santo Domingo isn't as affordable as other popular travel destinations for bachelors, which is a good thing in my opinion.
The older I get the more I prefer traveling to places where backpackers can't afford to go.
Click here
to get a big discount if it's your first time using Airbnb or you just started a fresh account.
Do you want to become the ULTIMATE ALPHA MALE?
Click Here
to discover a revolutionary new supplement made with science-backed natural ingredients that's changing men's lives overnight.
What to Expect When Dating a Dominican Woman in Santo Domingo
A good way to see what women look like in Santo Domingo is to use this site.
Whether you are trying to find a wife in the Dominican Republic or casual romance, you can't go wrong with the site I linked to above.
It worked great for me while I was there. It's one of the best free Dominican dating sites you can use.
Don't overthink and craft extravagant things to say to a Dominican girl.
Instead, keep it simple with casual greetings and openers.
Why are Dominican women so beautiful in Santo Domingo?
Well, the women are incredibly curvy; I've never seen such mammoth curves in my life type of big.
Girls in Santo Domingo are also darker.
Be careful. There are a lot of pros in Santo Domingo who prey on foreigners.
They work in groups with Dominican men to get every cent they can from unsuspecting foreigners.
That's why it's crucial to have a doorman and use the dating sites I mentioned previously.
After some practice and getting acclimated, I began approaching girls during the day in public settings.
If you're visiting Santo Domingo for a short stay, click here for a list of hotels in a more tourist-friendly area.
Santiago de los Caballeros
Santiago is another popular spot where bachelors go to meet Dominican women with lighter skin.
The girls in Santiago are more on the Latina side than you'll find in Santo Domingo.
However, the girl I met there was a black/Latina mix with massive curves, so there is a mixture of women there for sure.
Finding a solid place to stay through Airbnb in Santiago can be a hassle.
It's best to book a hotel.
Click here to check out a list of hotels in Santiago.
One of the pros of staying in Santiago is that it's safer than Santo Domingo.
The women there aren't running quite as many schemes as the women in Santo Domingo, but that doesn't mean you should let your guard down.
It's critical to be on your guard at all times in the Dominican Republic.
The sheer number of schemers is mind-boggling.
I often had to haggle to get a proper price for a bottle of water in a convenience store since most smaller stores don't put price tags on what they sell.
Overall, I like the women in Santo Domingo more than in Santiago, but most guys are the other way around.
Dating Tips
Online dating is the way to go in the Dominican Republic; I can't stress that enough.
Although, that doesn't mean it's easy to score top-tier women without game.
Here's a list of tips to follow:
Can you trust a Dominican woman you meet online? Keep an eye out for the pros using online dating sites. They are easy to spot for the trained eye, but other guys may have trouble spotting them. It's best to remember that if the situation seems too good to be true then it probably is.
Don't travel far to meet them, instead convince them to come to you and offer to pay their taxi fares if need be.
Lock up your valuables for every first date until you know you can trust a girl. There are wholesome Dominican women, but you can't know for sure until you meet them in person.
Don't let them walk all over you. They want a man who takes charge and is dominant in bed. Men who can't pass their tests or stand their ground will get eaten alive.
You should learn basic Spanish. If you don't speak any Spanish, you're immediately cutting out most of the population. I prefer women who barely speak English or no English at all. The girl I dated the longest spoke about five words of English and is sweet as pie.
Don't beat around the bush when it comes time to make a move. Dominican girls will look down on you if you're not man enough to escalate.
More Tips
When you start meeting girls online, try to condense your list of potential dates instead of talking to too many girls at once.
Most guys don't know how to juggle.
The methods I use to organize my efforts took me years to master.
Guys who have no experience will quickly get overwhelmed and not know where to start.
Once you do score a hot Dominican girl be prepared to meet a fiery woman.
A good chunk of the women I met there had a ton of energy and personality.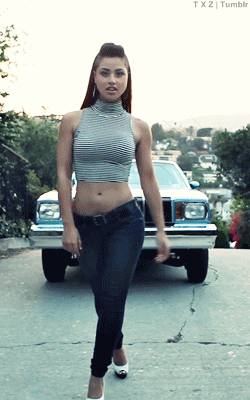 On the flip side of the coin, a large number of women like to sit around on their cell phones, but that's a problem I see everywhere in the world these days.
If you're a nightlife guy, be smart about what you bring out to the club or bar.
Keep your valuables to a minimum because Dominicans are quick to steal cell phones and other valuables.
Do style and muscles matter to Dominican girls?
In my experience, no.
By the time I landed in Santo Domingo, I had already deeply developed my inner game.
Confidence goes a lot further in the Dominican [anywhere] than style or muscles.
I was at my skinniest while visiting the DR, and the curviest girls I slept with might have weighed more than me.
My confidence was sky-high, and I could speak Spanish at a conversational level.
My Spanish is much better now, but the amount I knew did account for a lot of my success.
I can't imagine trying to pick up Dominican women with no Spanish.
One way to get around that problem is to hire a local guide.
I've seen guys score a ton by hiring a local guy to show them around, but that's not my style.
Overall, I did quite well with Cupid and this site.
After being there for a month or so, I had a system in place that was crushing it for me.
As far as style goes, my style is eccentric compared to most guys, and it didn't hurt my results.
I'm not a hipster though.
I can't imagine that Dominican women are into hipsters except for maybe a tiny portion of them.
Also, clean shaven or slight scruff worked best for me.
Final Thoughts
If you follow my guide, you really can't miss.
Dominican beauty is an unforgettable sight, but the place can quickly turn dark if you don't take the proper precautions.
Additionally, don't make the mistake of traveling to a resort thinking that you'll meet Dominican women there.
The guys who are scoring are in Santiago or Santo Domingo.
I've met older guys who live in the Dominican part of the year. They venture into second and third-tier cities with success.
That's one of the advantages of using Cupid.
You can meet girls from all over the island.
Cheers and best of luck!